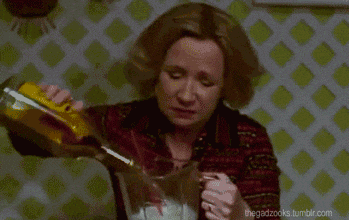 Yesterday was Monday and I got up for work. I put together food for Todd to take to work to get him started on a healthy diet and weight loss. It wasn't a stressful morning. I even made him breakfast. We had a snow event Saturday and Sunday so we stayed in all weekend and cooked stuff and V's dad brought her home for school yesterday so I wouldn't have to drive in bad road conditions the night before.
Time to leave for work – completely flat tire on the rear left. Thank God Todd was still home so he fixed it and I was only 10 minutes late to work.
I was on phones yesterday in the morning. It's January. EVERYBODY and their child has something. This week's special: vomiting, diarrhea, and ear aches. I'm not mentioning the lingering cough we've all been reading about because, let's face it, it's now part of the regular menu.
Here follows an excerpt of my morning calls, or, what you shouldn't do when calling your pediatrician's office.
First difficult call of the day: I had to conference in a translator so I could register a new patient in Spanish. Patient is in his teens. We still accept new patients up to age 16, but Spock would say it's illogical to go to the trouble of transferring in for only two years.
She wanted to schedule a well visit for him. Now. We need to have records in our office before we can schedule any appointments. I explained this, as well as the fact that we are scheduling well into March, April, and May. What? Oh no! He needs it NOW. She went on and on in Spanish for several minutes, because she was told by our office in November that she would have to call back in January. Ahem. NO ONE could possibly have told her that, because – need records first, then can schedule. Someone clearly misunderstood. She wasn't backing down. Several more minutes of Spanish where I was able to pick out a handful of words which I shouldn't have done because it made my head pound. Finally, I gave up engaging in this back and forth, since it wasn't going to change anything. She still has to bring records in, she still has to change us to his PCP on her insurance, and we still DON'T HAVE ANY APPOINTMENTS BEFORE MARCH. Longest phone call ever, and it was still barely 10 a.m.
Next up: mom calling for a referral. That was the easy part. Then, both her kids needed well child visits; they're due in February, and… SEE ABOVE. And – she wanted them both seen at the same visit. Easily spent 20 minutes on the phone with her trying to find a time for both children to be seen, NOT with their usual provider because that just ain't gonna happen if she wants them together. Said she'd take any provider, but not the nurse practitioner (who has appointment availability sooner) because one child has "issues." Found her an appointment in April with someone, and she happily took it. It just took forever to end this call.
Finally – and believe me there are several more I've blocked out – a dad called and wanted his son seen TODAY. By this time, we were completely booked and so I offered to have a nurse call and advise/direct him, or he could go to urgent care. This was before lunch.
Should I take him to the ER instead? That would be your decision… I'm not clinical so I'm unable make recommendations on that.
Well, can you schedule him an appointment for tomorrow?
I'm sorry, I cannot pre-book sick appointments for the next day. I can have one of our nurses call you and advise you and/or we recommend going to urgent care. Or, you can call back tomorrow morning and be scheduled then.
Well, who does the scheduling? I do, and nurses will schedule sick patients who need to be seen.
So why can't YOU just schedule him for tomorrow?
I am not able to pre-book sick appointments for the next day. But again, I can have a nurse call you and advise you.
Where is urgent care? Will they take my insurance?
There is ******* in ******* or the CHOP urgent care location opens at 4 p.m. YOU will have to check with your insurance about coverage.
Well, can I speak to a nurse?
Absolutely. I will have her call you. What are your son's symptoms?
He's been vomiting and has diarrhea.
For the record, I always end my calls with a big smile, hoping against hope that it is felt through the air waves that I am very pleasant and not the least bit annoyed with difficult people.
Also for the record, we DO NOT see patients who have vomiting and diarrhea. And, in case you don't already know, this is a VIRUS. It has to run its course and there's absolutely nothing a doctor can do for you. Unless you are dehydrated and unable to keep even water down. THEN, go to the emergency room. Common sense, folks!
I'm just glad I wasn't on phones after lunch, having to tell everyone who called that we have no more appointments left today. Sounds awful, right? But, this is the way it is in the winter. Everyone is getting sick and there are only so many appointments available in a day. That we were booked by 10:30 a.m. should tell you how many sick kids are out there. Which is why sick calls are triaged… so the nurses can determine who needs to be seen or who just needs home care.
And then today I woke up with headache and GI stuff and an enormous sore on my lip, something I've never had like this, ever. It started yesterday at work, and slowly grew but not terrible. This morning, it only added to the issues I woke with – and it is HUGE and ugly. And, it looks like there's another one brewing on the other side.
The kids were fighting over the washing machine last night – imagine! So these are the arguments I'm diffusing nowadays. Now they're both doing their own wash and I'm still reeling from the shock of having more time on my hands. Even Opac has taken on the challenge of unclogging a toilet – thus, I haven't had to do this in a while either. Who ARE these kids living in my house? Still, no one is cleaning the bathroom.
I went to the store on Saturday, which we've already determined is to be avoided at all costs. But, necessity boiled over. I turned up an aisle of the parking lot and sat still in my car while three different people, WHO WERE WALKING TOWARD MY CAR, took up the entire aisle. Not one of them thought to move out of my way. Todd said, I'd have blown my horn. And I said, that's precisely why I left you at home. People inside the store are no better. The rules of the road should apply to shopping cart etiquette but clearly most of these folks missed the memo.
The animals remain constant, though. Sabra is still freaked out by gunshots (we live in redneck land where no celebration is complete without gunfire). She's shaggy and stinky again and needs the groomer. She runs from me when I pull out the brush. She acts uncomfortable on the couch when we're home, but I KNOW she's up there when we're not because I see paw imprints.
Oliver lies on the couch every day, usually right after I've cleaned all of his fur from it. He continues his morning whine for canned goodness, and afterward waits on the kitchen stool for one of us to turn on his video game. For reals. There's an animated mouse video on YouTube we put on for him, and he stands on the counter and bats at these mice like Rocky Balboa. Hey – it's exercise. At least until he tires himself out and lies down on the counter and just watches them go by.
Miscellaneous:
Other things to keep in mind when going to your pediatrician:
We don't prescribe birth control pills.
Pink eye = extremely contagious. You will not be seen for that. Prescriptions are called in.
You cannot be "billed" for your copay. (Well, it does happen, but generally speaking, NO.)
Do not, I repeat, DO NOT "walk in" to the office without an appointment. And, to that end, if your child fell through a plate glass door and is bleeding in multiple places, DO NOT go to the pediatrician's office. You need to go to the ER.
Fevers that come and go with ibuprofen – will come and go with ibuprofen. In other words, fever returns when the medication wears off? Of course it does. And there's never a dumb question or first time parent who doesn't worry about what seems like the smallest things. Don't be afraid to call for the nurse. Just don't holler at the front desk person who has parameters to follow for scheduling sick appointments.
Likewise, please don't holler at the scheduler who can't pull well visits out of their ass for you. First come, first serve is a real thing ya'll.
Don't get mad at the front desk when your ex-wife told you the appointment time was a half-hour earlier than it actually is. Also, by the same token, do not involve us in your domestic disputes. There is nothing we can do about it, unless there are court documents.
When your child turns 18, they are a legal adult. They should be transitioning to an adult provider, but until they do, please know that without your new adult's consent, we are unable to discuss his/her healthcare with you. It's the LAW.
Finally, realize that your child is one of hundreds of patients in a practice. We care about all of them, but there are only so many doctors and nurses, and we can't always perform miracles. Use patience and kindness when asking for what you want, and that kindness and patience will be returned.